"Everything was smooth...the counter staff at Denver International Airport was helpful, and the driver was very friendly and knowledgeable about the area."
The Epic Mountain Express service counter is now located in the Main Terminal of DIA, on Level 5 (Baggage Claim Level), West Side of Airport, near baggage claim #12 and Door 512.
Ride with Epic Mountain Express, formerly Colorado Mountain Express, on our Denver Airport Shuttle that operates between Denver International Airport (DIA) and ski resort towns including Vail, Breckenridge, Beaver Creek, Keystone, and more. View our full shuttle schedules or book a private airport car service with our Premier service.
Shuttle discounts are available! Click here for to see the coupon.
Denver International Airport sees almost 80 million passengers traveling through each year, with 24 airlines providing service to 28 international and 189 domestic destinations. Epic Mountain Express operates a guest service counter for check-in on level 5 of Jeppesen Terminal, and also offers a mobile check-in for passengers with a U.S. phone number and correct flight information.
Epic Mountain Express' guest service counter is in the main terminal at Denver Airport. Collect all checked luggage and oversized items (skis, bicycles, golf clubs) and then head to the counter. As of April 2023, the Epic Mountain Express service counter is located on level 5, West side of Airport, near luggage carousel #12 and Door 512.
For information on TSA security wait times at DIA, visit www.FlyDenver.com.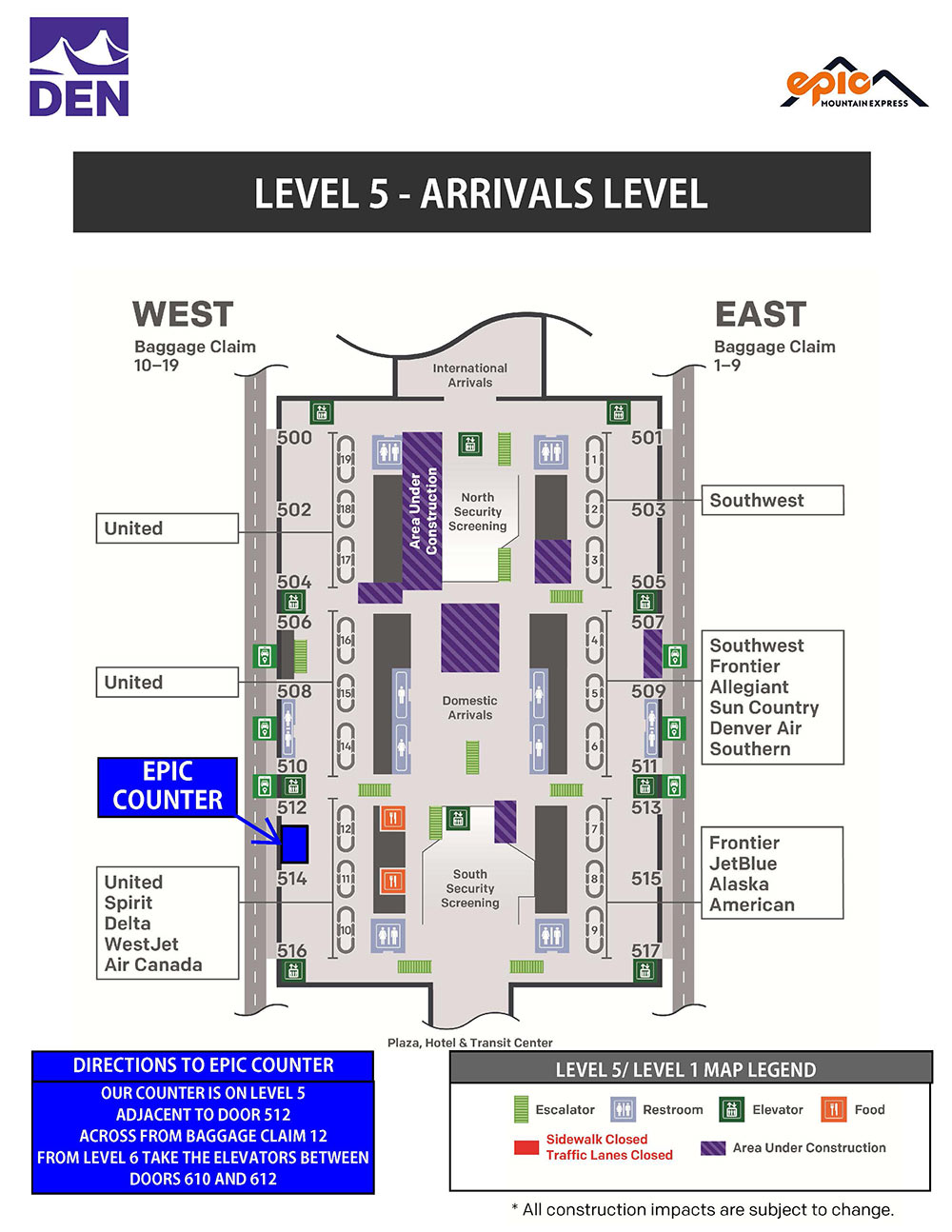 Epic Mountain Express is the easiest way to start your ski trip. Reserve services from Denver International Airport (DEN) to Vail, Breckenridge, Aspen, Beaver Creek, and more. Explore mountain ski resorts and take in the views of the Rocky Mountains! Just sit back and relax on a stress-free Denver Airport shuttle. Getting a ride to/from DIA has never been easier.
Epic Mountain Express offers both daily shared-ride shuttles and private transportation to/from DIA. Private cars from Denver are available through our a private Premier Mountain Express service. Pick the vehicle that's right for you and hit the most popular ski resorts the Rocky Mountains have to offer:
Reserve all your Denver International Airport transportation to Colorado ski resorts with Epic Mountain Express. Not flying out of Denver International Airport? Epic Mountain Express also offers scheduled shuttles to/from Eagle Vail Airport (EGE).
Premier Mountain Express
Travel on your schedule. Our scheduled shuttles from Denver Airport to Aspen are the best deals, but sometimes you need to travel on your own schedule. With our Premier Mountain Express car services we offer private chauffeured cars from DEN to ski resorts across Colorado. Our private airport charters to ski resorts are available 24/7 with options for luxury SUVs (up to 5 passengers) and chartered vans (up to 12 passengers). Start your next vacation with a luxury private car service!
Private charters are also available to resorts for weddings, conferences, executive transportation, special occasions, and more.