Epic Mountain Express Priority Frequent Travel Program
The Epic Mountain Express Priority Club travel discount program is designed for frequent travelers of Epic Mountain Express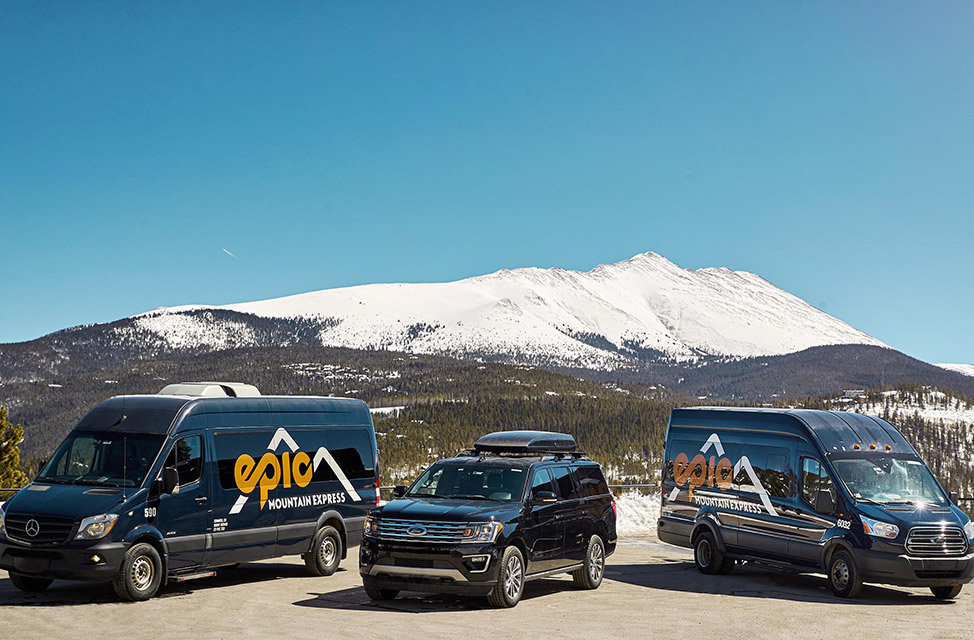 Reserve award travel by phone, 970-754-7433
Priority Club rewards you every time you use Epic Mountain Express or Premier Mountain Express. Leave your car at home and take us to DIA or Eagle Airport. Save on gas, save on parking and save money as a priority passenger
Every time you ride Epic Mountain Express shuttles or Premier Mountain Express, you'll receive credit in your Priority account for use on your future trip. You will earn 20% of a trip's value in reward points for every trip booked with a priority account
Your Priority status gives you advantages, including early notice of special promotions and sales
Share your Priority account with friends and family visiting you.
Get prioritized today and start saving for travel. Every ride with Epic Mountain Express brings you one step closer to a complimentary trip. Please note that only base fare is eligible for point earnings.

Points accrued have no cash value and can only be used towards future travel with Epic Mountain Express
Points will expire three years after being put into the account
Program FAQs
What is Priority Club?
Priority Club is a frequent rider program for guests of Epic Mountain Express. It rewards riders with points based on dollars spent on transportation. Points can be used toward future travel on Epic Mountain Express and Premier Mountain Express. Accounts are intended for individual use.
What are the benefits?
As a Priority guest, you, your immediate family and your friends will earn a point on every base fare dollar spent. Points are redeemed on a 5:1 basis. You receive
20% credit in your Priority account for use on a future trip. As a member, you will also receive news of special promotions, and service updates. An opt-out option is provided if you do not want to receive offers and news.
How do I join? You can sign up on line at https://www.EpicMountainExpress.com/loyalty-program
If you prefer to sign up by phone, please call 970-754-7433 (SKI-RIDE). To avoid a long wait, call between 1:00pm and 4:00pm MT.
Is there a membership fee? This program is free.
Earning Points
How do I earn points? You simply earn points by riding with us. Points are earned based on how much you spend. $1.00 = 1 point. Points are
earned on all travel except reward travel, travel on gift certificates, and company travel accounts (RRTP Accounts). Points are earned on the base fare after any applicable discounts are applied. Points are not earned on gratuity.
How do I know how many points are in my account? Balances can be checked online by entering your Rider ID# / Password and clicking "Login"
When will I see my most recent travel as a credit to my Priority Club account? Points are added after travel has been completed. Balances are updated on the 1st of each month.
Do points expire? Points are valid for three years from the date on which they are credited to your account.
Will I earn points on a reward trip? No.
Can I get credit for past travel? Yes. We provide credit for travel for up to three months back.

Redeeming Points for Travel with EME
How do I redeem points for future travel? Points must be redeemed for travel on shuttles and private car services by calling 970-754-7433. The EME Priority Club account must have a minimum balance of 200 points/ $40 before you redeem points.
Can I redeem points for past travel? No, travel that has already occurred cannot be refunded with points.
How many points do I need to redeem a reward trip? The number of points required for a reward ticket varies according to your departure point and destination. 5 points are redeemed for $1 travel.
Can I redeem a reward trip with a discount or promotion? No, reward travel is based on full retail price travel.
Is a credit card needed to hold a reservation even if my travel reward will cover the entire trip's cost? Yes. Credit card information is required to guarantee the reservation.
If I make a reservation using points, and have to cancel, will my points be credited back to my account? Sometimes. Standard cancellation policies and fees apply. If cancellation is within 24 hours of travel time, the points will be lost. If the reservation is cancelled outside of 24 hours of travel time, the points can be credited back to your account, but there is a reduction of 25 points per person
Reservations Instructions and Other Details for EME Priority Club Members
Can I reserve online? When making a reservation, enter your Priority Club number and click 'log in' before entering your travel details. This will pull up your account
details and the reservation will automatically earn points. If this is the first time logging in, click the "Create/Reset Password" link.
Can I redeem points for award travel online? No, To book discounted or free travel using your points, you must reserve by phone. 970-754-7433(SKI-RIDE)
What can I do online? You can sign up, save personal information such as pick up location and preferred method of payment, check an account balance, view past travel and see future reservations.
Can I reserve by phone? Yes. Call our reservations department to reserve. Before giving travel details, please provide your Priority Club log in to the agent.
Can I redeem points on discounted travel? No, you can only use your reward points on full retail fares.
Can I redeem points for a one-way trip? Yes, you can redeem points for a one-way trip. There must be a minimum of 200 points in your frequent rider account for any redemption.
How can I use my rider points to upgrade to EME Premier? Yes, as long as you have a minimum of 200 points in your account, you can use the value of your points on any CME service.
Can I combine miles from two accounts to claim a reward? It is not possible to combine points from two separate accounts.
Can I purchase additional points? No. But points can be redeemed for a partial credit as long as there is a balance of at least 200 points /$40.
Can I redeem points for cash? No. Points have no cash value.
Can I pay to extend the validity of my points? There is no point extension available.
Can reward tickets be refunded? Yes, if cancelled outside of 24 hours of your travel time. Please call reservations and the frequent rider points will be credited back to your account at a cost of 25 points per person.
Are there blackout dates for award travel? Yes. Peak travel weekends around the Christmas / New Year holidays, Presidents' Week, and other peak travel times may be blacked out for travel rewards.
Can I share my points and rewards with others? Yes. You will be required to book travel on behalf of the recipient.
Can my friends and family earn points for me? Yes. You can share your Priority Club ID with immediate family members and friends to earn points for you.
Members participating in Priority Club program are subject to the terms and conditions of the program. Members who violate the terms and conditions and/or the intended purpose of the program are subject to forfeiture of their Priority Club membership. Epic Mountain Express reserves the right to cancel this program at any time. Points have no cash value and cannot be redeemed for gift certificates.