"From the reservation desk at the Vail Airport to the driver's attention to detail, I would say you exceeded my expectations in every way"

Airport Shuttles from Eagle County Airport
Shuttles to Vail & Beaver Creek
From $49 per person to Vail, Beaver Creek, Avon, Edwards
From $40 with Epic Mountain Rewards 20% off Just enter your Epic Pass number at check-out!

Private vehicles to Vail from $369
The closest airport to Vail and Beaver Creek is Vail Eagle County Airport (EGE). Just 25 miles away, with travel that doesn't involve mountain passes, Vail Eagle Airport is serviced by Epic Mountain Express by both private SUV and van service, as well as scheduled shuttles. View our winter schedules. Direct flights from 14 cities including Chicago, Dallas, Houston, Denver, San Francisco, Los Angeles, Miami, New York/Kennedy, Newark, Phoenix, Atlanta, and Salt Lake City make flying into Vail a great option to make the most of your time on vacation.
Upon arrival, look for the guest service counter in the terminal near luggage claim. Convenient schedules, with numerous daily departures travel to Beaver Creek Resort and Vail. Private travel is available to Breckenridge, Keystone, and Copper Mountain.

Please note that currently, Uber is not allowed at the Eagle Airport due to a fee collection issue. Our Epic Mountain Express shuttles and cars are the best way to get from Eagle Airport to your destination.
Reservations made 72 hours in advance are strongly advised for both summer and winter travel.
Looking for a discount? Click here to find current deals.

Eagle to Beaver Creek Shuttles
Skiers often prefer flying through Eagle County Airport (EGE) instead of Denver or Aspen because EGE is much closer to the best resorts in Beaver Creek and Vail. The Eagle Airport is just 30 minutes from Vail and Beaver Creek, and an airport shuttle with Epic Mountain Express is the perfect alternative to airport taxi services. Ride sharing services like Lyft and Uber are not currently available at Vail Eagle Airport.
Scheduled Shuttles to/from Eagle County Airport:
Eagle to Vail

Eagle to Beaver Creek

Eagle to Aspen*

We also offer private charters from Eagle County Airport to resorts throughout Vail Valley, Beaver Creek, Breckenridge, Keystone, and Copper Mountain.
Please note that services to Aspen, Snowmass Village, and Glenwood Springs have been discontinued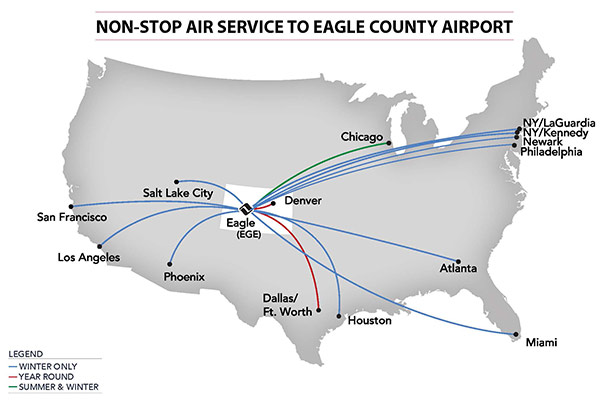 Eagle Airport vs. Denver Airport
Denver International Airport is a much larger airport, serving as a hub for United, Frontier and Southwest Airlines. As the 5th busiest airport in the USA, Denver International Airport offers more travel options and flight times. With over 800 daily flights to over 200 destinations including 23 international destinations, Denver is one of the fastest growing airports in the world. Eagle County Airport, being a smaller, regional airport, is served by three airlines: American, Delta and United. The benefits of flying into the airport closest to Vail /Beaver Creek include the east to navigate and get around. Also, most flights to Eagle County are on large jets like Boeing 757, 737 and Airbus. However, the biggest benefit of flying through Eagle Airport is how close it is to Vail and Beaver Creek. You don't have to drive through the mountains; it is a convenient airport.


While it has fewer flights than Denver, Eagle County Airport has services from American Airlines, Delta, and United Airlines. Most direct flights are in the winter season, with non-stop service to Eagle County Airport from New York, Newark, Los Angeles, San Francisco, Houston, Dallas Fort Worth, Austin, Miami, Atlanta, Phoenix, Chicago, and Philadelphia.
If you're flying through Eagle County for your next ski trip, book your Eagle Airport ground transportation with Epic Mountain Express!
Airport Eagle County Airport FAQ
As long as we have the correct flight information in your reservation, we will move you to the next available shuttle after the flight is scheduled to land. If you have changed flight number or carrier, please call 970-754-7433 or email
helpdesk@epicmountainexpress.com
to let us know the new information. We will do our best to accommodate the change, provided there is availability.
Yes. Shuttles departing from the Eagle Vail Airport are flight specific and will depart once guests with reservation have collected bags and are loaded on board the shuttle. If your flight is delayed or arrives early, EME will be there for this flight. This is not the case for Denver flights. These operate by a fixed schedule.
The following information is needed at the time of booking: Name of traveler, number of people traveling, dates of travel, airport flying into/out of, lodging location, Airline information (airline name and flight number), mobile number for contact, email address and credit card information (number, expiration date, CVV code, Name on card, Billing zip code) to make payment.