Epic Mountain Express Motor Coach Service
Traveling FROM Denver International Airport TO Mountain Resorts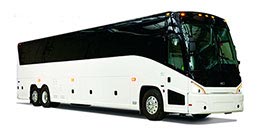 Epic Mountain Express uses luxury motor coaches for certain departures from Denver International Airport to mountain resorts. After collecting all luggage and checking in, either at the Epic Mountain Express counter, located in the North East area of the main terminal or by a text message that will be sent on arrival to the airport, guests will board the motor coach. The motor coach makes an express trip, with no scheduled stops, to transfer stations in Frisco or Keystone for Summit County guests or Vail Transportation Center for Vail and Beaver Creek guests. From this point, Epic Mountain Express staff will direct you to the vehicles to bring you to your lodging location.
Q: Why is Epic Mountain Express using a motor coach?
A: Due to the large volume of travelers over peak departure times, we supplement our scheduled shuttles with a motor coach.
Q: What do I do when I arrive to Denver International Airport?
A: Please check-in at the Epic counter at DIA after collecting all checked luggage, or check in using your mobile phone, following text message prompts. You'll be informed of where to load on the motor coach and your luggage will be put on board the motor coach. Upon arrival to the transfer point, you will be given the van number and/or driver's name who will deliver you to your lodging. Epic Mountain Express staff will be on hand to assist with loading and unloading luggage.
Q: Will the ride on the motor coach take longer than a normal shuttle trip?
A: Travel time on the motor coach is equivalent to normal shuttle vans. The motor coach does not make any stops. Shuttle vans usually have a midway comfort stop. The coach is the fastest way your destination in most cases.

Q: What are my options if I choose not to ride on the motor coach?
A: Due to the circumstances, Epic Mountain Express may not have another option to move you to another vehicle type or another departure time. You may cancel your reservation by 6pm the day prior to travel, and a full refund will be issued. Cancellations after this time will be forfeited.
Q: What are some of the motor coach's features?
A: Onboard, you'll find a restroom, outlets, seat belts, Wi-Fi, and automatic tire chains in the case of snow, which ensure safe travel through the mountains.