Celebrate Winter and the Holidays in the Rockies
Posted On: 12/17/2018
Happy Holidays from Epic Mountain Express and CME!
If you're ready for a White Christmas, come to Colorado! The snowy mountains provide a perfect backdrop and the resorts supply a diverse line up of festivities.
If you are in Vail, join in on activities for every age and interest. For the young, there is Santa & the Babies, ice skating at Solaris Plaza and a lantern making class at Vail's library, followed by a processional.
Beaver Creek will help you get lost in the spirit of the season! Join in on daily activities from stories around the fire, viewing
holiday movies, live music and watching snow sculptures get created. Or take in a showing of Charles Dickens' A Christmas Carol at the Vilar Center. Beaver Creek's ice rink in the center village is the perfect place to gather with hot chocolate,too.
Keystones Kidtopia Holiday Spectacular offers many opportunities to mingle with Santa. From parades, dinners, a Sleigh Ride Brunch
and Fireside Cocoa & Coloring! Keystone also boasts a Chocolate Village that you won't want to miss!
Christmas Eve at Copper Mountain honors Santa's arrival with a glow stick and torchlight parade as well as fireworks.
No matter which mountain resort we bring you to, you'll enjoy frosty views, snow covered peaks and
scenic views, all which are perfect for getting you into the holiday spirit!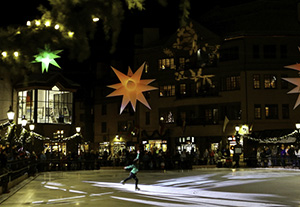 Search Blog
---
Categories
---
Archives
---
Subscribe