The SUV Option Black Car Service
Posted On: 02/03/2021
A vacation at last! Finally, you're coming to the Rocky Mountains of Colorado to ski in Vail, or maybe ride Breckenridge. Or it could be an indulgent getaway to Beaver Creek that includes some cross country skiing. When you fly into Denver International Airport or the ultra-convenient Eagle County/ Vail Airport, Epic Mountain Express can easily transport you from the airport to your ski resort lodge, condominium, or private home.
Premier Black SUVs are a great option to ensure privacy, safety, and comfort. Plus, it's fastest way to get to resort to get the fun started. Premier Black holds up to five guests, who are traveling together in the same party.
All of Epic Mountain Express's private transportation options, like YourRIDE+, include driver's gratuity in the price. But price isn't always why you choose to travel in a SUV. By far the most comfortable vehicle of the fleet, this is a true chauffeured experience with leather interiors and individual seating. Up to a 15 minute complimentary stop is included in your journey.
With Premier Black SUV service, there is minimal wait time when arriving at the airport. Simply message your driver after collecting your luggage (don't forget your sports equipment or better yet, send it through Luggage Forward), and you'll be picked up curbside. Upon reserving SUV service, you provide your cell number and flight details and upon landing you will receive a text message that will guide you through the check-in process and exactly where to meet your driver. If you are spending some time in Denver, booking a private vehicle allows to get picked up a location other than at the Denver Airport.
If you prefer to travel in luxury, are bringing the family dog (pets are allowed!) or simply desire to ride with only your party, we have a private vehicle for you! Reserve online or by calling 970-754-7433. Remember, Epic Pass Holders receive a 20% discount on SUV service through Epic Mountain Rewards. Just enter your 2021-22 Epic Pass number just before the payment page when booking online, or mention to the sales agent if reserving by phone.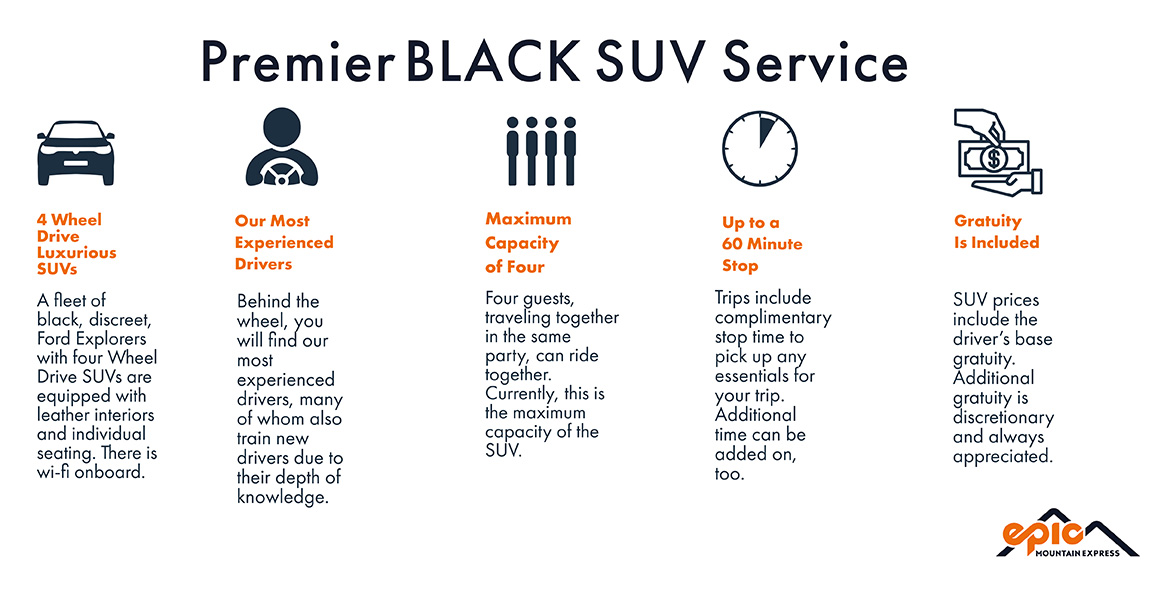 Search Blog
---
Categories
---
Archives
---
Subscribe